By, Patty Lovera, Policy Director
COVID-19 RESPONSE
The end of July and early August in Washington D.C. have been consumed by what will happen next in Congress to respond to the ongoing disruption caused by Covid-19. The House passed the HEROES Act in May, which would largely continue the approach from the CARES ACT (passed in March) of providing funding for USDA to make payments to producers, as well as some additional funding for things like protective equipment.
We have been waiting since May for the Senate to come up with their version of a bill. At the end of July, Senate leadership released a draft of their package. On many topics – unemployment insurance, aid to state and local governments, increasing SNAP benefits, and creating immunity from liability for businesses, healthcare institutions and schools – the Senate draft and the bill passed by the House are very different.
On agriculture, they are not all that different. The House bill uses a different source of money (the Commodity Credit Corporation) to fund USDA Covid-19 response, while the Senate bill would give USDA direct appropriations. The House bill has a few more strings attached to how the money should be spent than the Senate bill, but neither provides very strong standards for how USDA designs their programs.
At the end of last week, the leadership of the House and Senate and the White House were still negotiating about what will be in a final package, with major disagreements over the big economic issues that differ between the two bills. Once these big items are worked out, there may be some opportunity for members of the agriculture committees to weigh in and add more provisions related to the USDA programs. OFA continues to be in touch with members of Congress who are on the appropriations and agriculture committees to stay on top of this process and urge them to make sure these programs work better for organic farmers than the initial round of programs.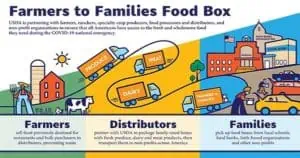 While Congress continues to debate what's next, the USDA is still running two programs created by the CARES Act – the Farmers to Families Food Box (contracts to ship boxes of food to food banks) and the Coronavirus Food Assistance Program (direct payments to farmers for eligible commodities).
The USDA has opened a third round of contracts for the Farmers to Families Food Box and is now accepting bids. They have changed the requirements for this round, and now require contractors to deliver larger boxes (20-30 pounds of food per box) and are also requiring that each box contain a variety of meat, dairy and fruits and vegetables (previous rounds allowed contractors to provide 5 pound boxes with one type of product.) If you are interested in pursuing a contract through this program, check out the USDA's website.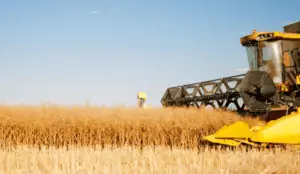 For the farmer direct payment (CFAP) program, you can get more information here, including which crops are eligible for direct payments (based on USDA's assessment of whether they suffered a significant price drop between January and April.) USDA has expanded the list of additional fruits and vegetables that are now eligible for direct payments to producers. The USDA recorded a series of webinars about this program, which might be useful if you are considering whether to apply.
STRENGTHENING ORGANIC ENFORCEMENT PROPOSED RULE RELEASED!

After many months of delay, the National Organic Program has released the proposed rule on Strengthening Organic Enforcement. In early August, the proposed rule was finally published in the Federal Register, which starts the clock on a 60-day public comment period, ending on October 5th.
This proposed rule is required by language that OFA supported in the 2018 Farm Bill, which gives the NOP additional authority to track imported organic products, including requiring imports to have an electronic import certificate. The need for better systems to prevent and detect fraud in both imports and domestic supply chains has been clear to OFA members for many years, as Harriet Behar's article, The Tragedy of Fraud, on our website lays out.
The new proposed rule addresses not only the provisions required by the Farm Bill, but also other issues including:
applicability of the regulations and exemptions from organic certification;
import certificates;
record keeping and product traceability;
certifying agent personnel qualifications and training;
standardized certificates of organic operation;
unannounced on-site inspections of certified operations;
oversight of certification activities;
foreign conformity assessment systems;
certification of grower group operations;
labeling of non-retail containers;
annual update requirements for certified operations;
compliance and appeals processes;
and calculating organic content of multi-ingredient products.
You can read the proposed rule (or a summary) on USDA's website (go to the "Supporting Documents" section near the bottom of the page).
OFA's policy committee is working to do an in-depth analysis of the proposed rule and OFA will make detailed comments about ways to make the proposed rule even more effective, including decreasing the time importers would have to provide import certificates, expanding the requirement for indicating organic products on bulk shipping containers and speeding up the effective date of the rule.
TAKE ACTION ON ORGANIC ENFORCEMENT

We also need OFA members to weigh in during the public comment period for the Strengthening Organic Enforcement proposed rule to make sure it gets finalized quickly and that the final rule is a strong as possible.
Here's how you can comment:
The fastest way to submit a public comment is through the federal government's online system. This proposed rule has its own web page and you can click on the "Comment Now" button on the top right to enter your comment. You can either copy and paste your comment into the system or attach a file.
If you want to submit a hard copy of your comments instead (you don't need to do this if you submit online), send it to:
Jennifer Tucker, Deputy Administrator, National Organic Program, USDA-AMS-NOP, 1400 Independence Ave. SW, Room 2642-So., Ag Stop 0268, Washington, DC 20250-0268; Fax: (202) 260-9151
What to include in your comment:
Make sure to include the docket number for this proposed rule in your written comment: AMS-NOP-17-0065.
Explain that you are an organic farmer and mention any specific concerns you have or examples of how fraud in organic supply chains has impacted you.
TALKING POINTS:
This proposed rule is necessary and long overdue. I especially support the end to exemptions for uncertified handlers in the supply chain and the requirement of electronic import certificates.
I urge the USDA to finalize this rule as soon as possible and speed up the effective date so that the agency can start enforcing these rules to prevent fraud in organic supply chains.
For section 205.273(c), I urge the USDA to shorten the time frame allowed for an importer to submit an electronic import certificate into the ACES system. Allowing importers 10 days to file the electronic certificate after the shipment has reached a U.S. port could mean the difference between preventing fraudulent products from entering the U.S. and having to try to retrieve them once they have entered commerce.
I appreciate the proposed rule's requirements that non-retail containers be labeled with more information about the organic status of products (section 205.307). But I urge the agency to expand this requirement to large non-retail containers such as trailers, tanks, rail cars, shipping containers, grain elevators/silos, vessels, cargo holds, freighters, barges, or other method of bulk transport or storage. Providing a visual indicator that these contain organic products serve as a valuable backstop to other methods, such as organic certificates, and provide one last opportunity to prevent unintended commingling or treatment with irradiation or other prohibited substances. I also urge the agency to investigate technologies that indicate whether containers have been opened or tampered with during shipping for large-scale shipments.
Join today and support organic farmers!
Organic Farmers Association members support a strong voice for organic farmers in Washington, D.C.
All members receive great benefits like advocacy to protect organic integrity and strengthen support for farmers, regular policy updates, quarterly magazine Organic Voice, and member discounts.
Farm Membership
U.S. certified organic farmers should select this membership. Only farm members are eligible to vote on Organic Farmers Association policy positions and priorities. International farmers, or farms that are not certified organic, should select the Supporter Membership.
Join now
Supporter Membership
Not a certified organic farmer, but want to support the organic farmers that make our planet a better place? Supporter members will be connected to the discussions about policies that affect organic farmers, and be called to advocate on their behalf.
Join now
Organization Membership
Organizations that have a significant membership (or stakeholders) of certified organic farmers should select this membership. Organization Members receive the tools they need to advocate for policies important to organic farmers.
Join now