ORGANIC FARMS ADAPTING DURING COVID-19
Resilience, Soil Health, and Community = Winning Strategies
By, Noah Cohen, Organic Farmers Association
Despite much uncertainty and upheaval of our economy during the 2020 outbreak, many organic farms have been bright spots of the COVID-19 economy. With consumers now having 100% control over their food dollars, we have seen nationwide increase in organic sales.  An increase of home cooking has mirrored an increase in purchase of organic whole foods.  Organic farmers have pivoted to shift their businesses in new directions to better serve the local direct markets as well as rethink our food systems for the future.
Here's how a handful of organic farmers from around the country have fared: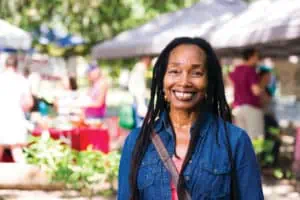 FARM FACTS: Taylor runs Lola's Organic Farm, which sells organic fruits and vegetables through farmers markets, a co-op, and a CSA program.  She also works at Florida Agricultural & Mechanical University (FAMU) as the coordinator of Florida's Statewide Small Farm Program, which helps farmers obtain education and training to implement organic methods.
EXPERIENCE: Lola's Organic primarily grows fresh fruits and vegetables—food categories that saw especially astronomical sales increases nationwide during the pandemic's early phases, with consumers suddenly gravitating to products perceived to boost immune system health. "That [sales boost] was true for us," Taylor says, "and that's still going on." "One outcome of this whole thing," she explains, was that "it caused everyone to slow down and reflect on what's important to us and to our communities, and as we did that, to think about our health. Because health was an issue." Many of Taylor's local community members began to focus on "how to build our own immune systems, and how to eat healthy foods," she says. "And that was why the customers were being, and still are, very appreciative and supportive of the farmers gearing up to share and sell their local organic produce to the customers [through channels like farmers markets]."
TAKEAWAYS: Taylor, who works with small farmers to implement organic practices and enter "different alternative types of marketing systems" at FAMU, says the COVID crisis has "verified" the resilience of local organic farming and underscored its importance to community food systems. "Communities found that [local organics] did not stop being available [during COVID], and food from your local organic farmers was and is the reliant food resource for the community," she explains. "It also verified [that] for us, because we knew we were essential food providers long before we were deemed that role." While the organic farmers of Taylor's community broadly adapted well to the pandemic restrictions, she says farms that "use direct connections from the farmer to the consumer and to the communities" have been especially successful.Taylor also observes that the pandemic's disproportionate public health impact on communities of color drives home the need to bring the essential health benefits of organic agriculture to urban areas, which she says calls for helping urban and underrepresented farmers implement organic methods through technical assistance, education on certification, and cost-sharing. "Healthy environments, healthy food resources, pollinator habitats, the lack of toxic chemicals being used– all these are benefits that urban communities see through growing organic agriculture in the soil," she explains. "And so expanding and enhancing resilient agriculture systems and growing [organics] in urban areas– that supports minority communities."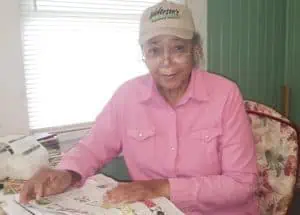 FARM FACTS: Adderson has run Adderson's Fresh Produce since 2007, where she grows organic fruits and vegetables on her 56-acre multi-generational family farm.
EXPERIENCE: "Our biggest challenge was finding a market for our produce," says Adderson, who had ordered seedlings before the pandemic started with the expectation of selling to 12 different distribution channels, including multiple restaurants, school districts, and retail markets. "We immediately realized we had overproduced… due to the pandemic, we only had one online market and one juice bar [to sell produce to]."

Faced with lagging sales and over 15,000 seedlings, Adderson pivoted by introducing a Grab Bag Program—which, to better meet public health standards during the pandemic, soon became a Grab Box Program—targeting two different communities. One market where this transition was particularly challenging was the Veggie Park Farmers Market, an organic produce market that serves the Harrisburg neighborhood of Augusta. Harrisburg is a food desert—an urban area where accessibility to affordable fresh food is limited. Many Veggie Park customers, Adderson explains, could not access traditional CSAs because they had no credit or debit card, making it impossible to pay online. The farmers were not set up to receive EBT card payments either, so innovation was necessary. "The boxes were delivered to a central location, and the customers would pick up their boxes and place a check or cash in a container beside the boxes," Adderson says. While Veggie Park did get some customers for the Box program—especially when their annual Fruit and Vegetable Prescription Program opened—sales remained down significantly compared to their traditional farmers market sales from previous years. 

Nonetheless, Adderson's Fresh Produce has weathered the storm, albeit with lower sales than usual and the loss of many of their crops due to extreme summer heat. "Our plan for the fall is to step up our game with an increase in brassicas," Adderson says, "and to add a Box CSA for a stronger 2021."

TAKEAWAYS: "We still have a lot of work to do," Adderson says of the implementation of her Box Program. "The CSA is a new concept for our communities, families and farmers… [so we need to] educate, and, importantly, allow EBT for online purchases."


As a retired nutritionist, Adderson has been preaching the importance of building immune health since long before the pandemic. Now this commitment has begun to pay off, with consumers finally gravitating toward the vitamin-rich, immune boosting organic vegetables she has long been committed to growing to improve the health of her community. "Providing organic dark leafy greens and other high-nutrient vegetables to help reduce nutrition-related diseases is our mission," she says. "Broccoli, brussels sprouts, cabbage, cauliflower, collard greens, kale, mustards, and spinach are full of vitamins and minerals. Excellent sources of Vitamin A and C, too." Adderson plans to keep using her platform as a staple food resource for her community to drive home the connection between health and diet and encourage her customers to consume more fresh, nutritious, and vitamin-rich foods to protect their health, both during the pandemic and beyond.

FARM FACTS:

Livingston runs Northland Sheep Dairy, a 177-acre farm that produces "completely handmade" aged sheep cheese and lamb using 100% grass-fed sheep, and primarily sells wholesale to restaurants and retail outlets.

EXPERIENCE: Livingston considers herself incredibly lucky that due to the production timeline for both aged cheese and lamb, her sales dropping off precipitously during the pandemic has not hugely affected her livelihood. "I make aged cheeses, so I'm usually selling the previous year's cheese," she explains. "I'm mostly wholesale—we make whole wheels that go to a couple distributors, mostly to restaurants. But of course [this year] the restaurant sales went kaputt, as did my distributors… so I have a couple really small retail outlets I sell to, but other than that I'm really not selling much cheese. So therefore, I haven't weaned my lambs… I'm not milking, I'm not making cheese, yet." As for lamb, Livingston does direct sales to customers, which were, as usual, concentrated around November last year. "So we sold all our lambs at once and had a nice nest egg from that, so we're doing fine," she says. "We're using this year to do lots of projects we've never had time to do, we're making the most of it, and it's going pretty well." And for this year's slaughter season, she says, "I'm fortunate that I have a wonderful relationship with a great USDA butcher that's certified organic, and I have my appointment, and I'm good to go."
TAKEAWAYS: "Being small has made us resilient," Livingston says, "and so has making aged cheese [which can be stored rather than sold for a long time]. If I were producing a ton of fresh cheese, I'd be really under the gun to keep them moving."
FARM FACTS: Powell-Palm is a millennial farmer who has been running his own organic cattle-growing operation since the age of 12, and the owner of Cold Springs Organics, an 875-acre ranch where he produces grains and grass-fed beef.
EXPERIENCE: "In Montana, we sort of socially distance natively, so it wasn't all that much of a change for us. And in the summertime, me and my crew don't really leave the farm, it's just too busy for that," quips Powell-Palm, who I finally reached after several weeks during a 30-minute break between marathon sessions of combining wheat. The biggest impact of COVID on his day-to-day operation, he says, is that it "disrupted some of the supply chain, so ordering parts [for machinery like combines] has been kind of tricky."


With meat processing plants shutting down en masse during COVID, many meat growers have been left unable to sell this summer. Powell-Palm, however, was able to "inch by," thanks to Montana's robust system of local, family-run slaughter plants, which have fared much better than the industrial-scale processors elsewhere. "The plants here don't have very many employees, so they're pretty resilient as far as surviving [the pandemic]," he explains. But by next year, Cold Springs will be better prepared: this year's shutdowns have inspired them to open their own processing plant. "We had mostly been selling our cattle to Whole Foods, which goes through a larger processor that's experienced disruptions throughout the pandemic," Powell-Palm explains, "so it's kind of inspired us to take the jump."

TAKEAWAYS: Powell-Palm says the pandemic has made it clearer than ever that organic grass-fed beef is not only the only ecologically sustainable beef production system, but also a critical solution for consumer health and a bulwark against devastation for farmers during economic crises. Unlike other beef, which is loaded with the blood pressure-spiking Omega-6 fatty acids that spur nutritionists to warn against too much red meat, grass-fed beef largely replaces these fats with the much more heart-healthy Omega-3s. "Grass-fed beef actually has nearly the same Omega-3 [fatty acid] profile as salmon… so when you talk about salmon's ability to bolster brain function and heart health, grass fed beef does that as well," Powell-Palm says. With consumers becoming unusually health-conscious during the pandemic, he says, many have started to take stock of these benefits. "There's also been a lot of studies about farm economic liability and grazing," Powell-Palm says, "and the farms that graze [their livestock] as opposed to using feedlots, they're really the ones that survive the bad times, like this pandemic. They're the really resilient model."

Reflecting on his decision to open his own meat processing plant as well as his own feed mill—which he says is "kind of as a service" for members of his community who want to raise their own food—Powell-Palm says local processing infrastructure and self-sufficient local food systems are key to keeping food available to communities during crises like COVID. "Thinking about the wake-up call of [COVID]," he says, "we've got a lot of food going un-used at the local level right now, so we're trying to figure out how you make [our local commodities] more accessible, more able to utilize at the local level, and more available to consumers and to communities."
WHERE DO WE GO FROM HERE?
Most organic farmers seem to agree on one thing: that COVID-19 has exposed fundamental flaws in the food system status quo. Mark McAfee calls the pandemic "a national stress test on our food system [where] consolidated, huge industrial systems have failed" while local, organic, consumer-connected systems have thrived. While COVID-19 has been tragic, Bishop says, it has unexpectedly provided "a once-in-a-lifetime opportunity" to reevaluate our current food system and imagine how it might improve for the future, using the resilience and success of the many thriving local, organic farms as a blueprint.
Several farmers also recommended specific policy priorities, including:
Establishing federal quotas for dairy to stabilize dairy prices, protecting dairy farmers from market shocks like the pandemic

Establishing robust certification processes for the grass-fed label on meat to ensure uniform standards and increase consumer transparency

Allowing EBT cards to be used for online CSA purchases, to enable consumers without access to credit or debit cards to access fresh produce delivery

Bringing the crucial soil health benefits of organic farming to cities by supporting urban organic farmers

Improving nutritious food access for Black, indigenous, and people of color communities by supporting underrepresented organic farmers via technical assistance, organic certification education, and increased funding for the organic certification cost-share program

Enforcement of antitrust laws to combat meat/dairy industry concentration, which many have called "the root cause" of COVID-related processing supply chain disruptions
Fixing the organic livestock enforcement loophole, which has tanked organic dairy prices
Mitigating the farm workforce's vulnerability to border closures by introducing a new longer-term farm worker visa for immigrants and an agriculture-centric path to citizenship
Prioritizing local farms + disproportionately impacted communities when distributing stimulus money
Making federal investments into organic sector development
Revising eligibility restrictions for SNAP, creating incentives to buy fresh, local foods
Join today and support organic farmers!
Organic Farmers Association members support a strong voice for organic farmers in Washington, D.C.
All members receive great benefits like advocacy to protect organic integrity and strengthen support for farmers, regular policy updates, quarterly magazine Organic Voice, and member discounts.
Farm Membership
U.S. certified organic farmers should select this membership. Only farm members are eligible to vote on Organic Farmers Association policy positions and priorities. International farmers, or farms that are not certified organic, should select the Supporter Membership.
Join now
Supporter Membership
Not a certified organic farmer, but want to support the organic farmers that make our planet a better place? Supporter members will be connected to the discussions about policies that affect organic farmers, and be called to advocate on their behalf.
Join now
Organization Membership
Organizations that have a significant membership (or stakeholders) of certified organic farmers should select this membership. Organization Members receive the tools they need to advocate for policies important to organic farmers.
Join now